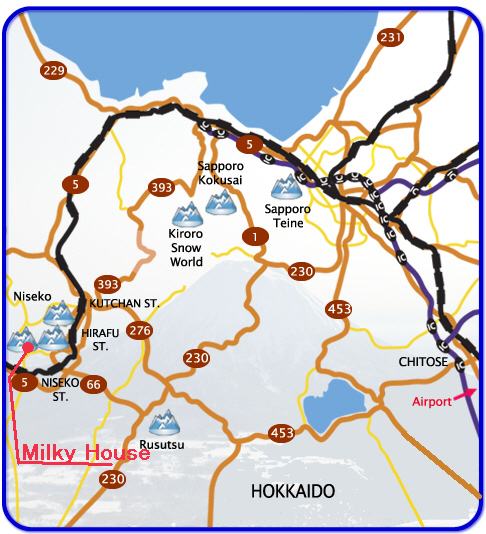 ACCESS FROM Chitose Airport
There are two transfer way (train and bus) coming to Niseko from Chitose Airport.
I recommend a direct bus, which comes right to the Annapuri Area about a 3 hour drive away,
"the dilect ski bus"is starting every one hour in front of an exit of baggage passing place..
http://www.goodsports.co.jp/eng/bus/bus-cts.html#niseko
time table
Bus Stop /Bus Number 1209 1211 - 1213 1215 1217 1219 1221 1223 1225
New Chitose Airport   12:00 12:30 -13:30 14:30 15:30 16:30 17:30 19:30 21:00
Hirafu parking lot #   14:30 15:00 16:00 17:00 18:00 19:00 20:00 22:00 23:30
Hilton Niseko Village   14:50 15:20 16:20 17:20 18:20 19:20 20:20 22:20 23:50
Hotel Niseko Village   14:55 15:25 16:25 17:25 18:25 19:25 20:25 22:25 23:55
Nukku Annupuri     15:05 15:35 16:35 17:35 18:35 19:35 20:35 22:35 0:05
Northern Resort Annupuri 15:10 15:40 16:40 17:40 18:40 19:40 20:40 22:40 0:10
Hotel Kanro no mori 16:50 17:50 18:50 19:50 20:50 22:50 0:20
Niseko Grand Hotel 16:55 17:55 18:55 19:55 20:55 22:55 0:25
http://www.goodsports.co.jp/eng/bus/bus-cts.html#niseko
The nearest bus stop is "Nukku Annupuri". It's located 200m far from our pension.

Trains are also available from the airport to Niseko Train Station.

the last train start as below.
chitose airport sapporo otatu (changing train) kuccyan niseko
17:34 18:10/18:14 18:46//19:21 20:50/20:52 21:13

http://grace.hyperdia.com/cgi-english/hyperWeb.cgi
http://www.hyperdia.com

ACCESS FROM Sapporot
Sapporo Station Bus Terminal to Milky House
Sapporo Bus Terminal Annupuri Ski Ground
8:25 (Kousoku Niseko) 11:25
10:15 (Kousoku Niseko) 13:06
15:35 (Kousoku Niseko) 18:26
Potato Replubic (Poteto Kyoukoku) and Annupuri Ski Resort (Annupuri Suki-Jou) are the same stop.
"Annupuri Suki-Jou" bus stop is located facing our pension,anther side of the road, only 1 minute walking.
When you get on the bus, most likely, you will have to pick up a number at the entrance. And when you arrive, you pay the price that is showing on the board in front of the bus according to the number you are holding. The price is around 2100 yen from Sapporo to Niseko. Once you get off the bus, Milky House is a few houses up the hill.
2) JR Trains
If you can't make the above time, then you can also take the JR Train, but you must transfer at Sapporo and at Otaru. The process is not complicated, but might be slightly confusing for travellers. Please note that trains don't run as often during the summer months, so you should confirm the schedule ahead of time. Lastly, the last train that will make it to Niseko on the same day from Sapporo is 18:44 (Otaru Express) and transfer at Otaru at 19:21. You will arrive at Niseko Station at 21:13. When you take this train,we can't serve you dinner.
http://grace.hyperdia.com/cgi-english/hyperWeb.cgi
http://www.hyperdia.com
Getting to Hokkaido: By Plane
Niseko's closest airport is Sapporo Chitose. Located about 40km south of Sapporo city, Chitose receives International and Domestic flights. From Chitose it is 2 hours (120km) by car or 3 hours by train to Niseko. See below for information on trains and directions for driving.
Domestic flights in Japan are generally very expensive, so it would be wise to get a connecting flight straight to Chitose when booking your ticket.
The train station is in the basement of the airport.
Getting To Hokkaido: By Ferry
If you are already in Japan, an alternative to flying is to take a ferry. These are generally very comfortable and not at all crowded - and of course cheap! The journey from the north-west coast of Honshu takes between 18 and 31 hours, depending on where you sail from.
Here is a guide to the basic one way fares for foot passengers with open tatami-room accomodation.
Maizuru - Otaru 7,000yen (22 Hours)
Niigata - Otaru 5,300yen (16 hours)
Tsuruga - Otaru 8,500yen (23 Hours)
Contact the Shin Nihon Kai Ferry Company for more information on 0134-22-6191.
Please note that there are three train stations in Otaru. Most trains depart from "JR Otaru", which is about one hours walk from the ferry terminal. It is recommended that you take a taxi!
Below is the summer timetable for trains to Niseko
(Please note, in the winter the trains are much more frequent.
Also, Japanese trains are nearly ALWAYS on time!)
Please use http://www.hyperdia.com for winter train and bus times.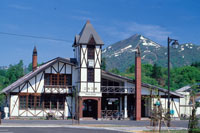 JR Niseko
Niseko is located on the Hakodate Line.
We provide a free pick-up service from JR Niseko.
Ticket prices are listed below
If you are coming from Chitose Airport or Sapporo the following times apply:
Shin Chitose
Airport


Sapporo

Otaru*

Kutchan

Niseko

Osha-manbe

Hakodate

06:27
06:43

08:26
08:58

10:12
06:11
07:53
08:09
07:13
arr. 08.03
dep. 08:07
09:30
09:47
11:13
12:03
13:25
10:03
10:41
arr. 11:14
dep. 11:19
arr.12:44**
Bus dep. 13:13
13:35
11:03
11:26
arr. 12:02
dep. 12:21
13:44
14:00
15:13
15:27
16:47
12:03
12:41
arr. 13:14
dep. 13:19
14:47**
Bus dep. 15:33
15:55
13:33
14:14
arr. 14:46
dep. 14:51
16:28
16:48
18:28
20:14
15:28
arr. 16:03
dep. 16:21
18:05
18:25
19:47
21:39
17:03
17:39
17:52
18:28
19:30
18:03
18:44
arr. 19:16
dep. 19:21
20:55
21:15
22:40
Notes:

* it is almost always necessary to change trains at Otaru.
** 14:44/14.47 At Kutchan change to a Niseko Bus
---
If you are coming from Hakodate the following times apply:

Hakodate

Osha-manbe

Niseko

Kutchan

Otaru

Sapporo

Shin Chitose
Airport


05:22
06:33
06:38
07:33
08:10
06:22
07:24
07:29
08:20
08:56
06:43
06:58
08:03
08:20
08:58
06:12
07:37
08:02
09:16
09:22
09:58
09:09
10:59
11:04
11:36
11:40
12:16
07:20
08:33
09:08
10:36
11:10
12:42
13:04
13:36
14:20
12:50
14:00
14:39
15:26
09:30
12:12
13:26
13:45
15:14
15:34
16:06
16:55
15:10
16:40
17:20
17:25
18:01
12:50
14:23
15:57
16:30
17:59
18:04
18:36
19:26
16:18
17:32
18:00
19:19
19:32
20:11
20:20
21:10
16:04
17:41
19:03
19:31
20:42
20:58
21:45
18:17
19:48
21:15
21:34
22:52
23:03
23:55
Ticket Prices:

From Sapporo to Niseko (one way) 2,100 yen
From Shin Chitose (Chitose Airport) to Niseko (one way) 2,870 yen
From Hakodate to Niseko (one way) 2,850 yen
From Furano to Niseko (one way) 6,230 yen

Rail Passes:

Japan Rail Pass: the Japan Rail Pass covers the whole of Japan. It is available for various lengths of time. The Japan Rail Pass must be bought OUTSIDE of Japan, i.e. before you leave home. Contact your local travel agent for more information.
Hokkaido Pass: The Hokkaido Rail Pass entitles you to free travel on all trains in Hokkaido for three days. The price is 14,000 yen. It can be bought at all major JR stations such as Shin Chitose and Sapporo.
JR Train information Line (in English), Mon-Fri 10am-6pm
From outside Japan: +81 3 3423 0111
From inside Japan: 03 3423 0111
Please click here for a large copy of this local map
| | | |
| --- | --- | --- |
| | | Niseko is a 2 hour drive (120km) from Chitose. Hire cars are available at the airport - please see your travel agent for more information. (You can also hire cars in Niseko, click here for more information). Please note that in the winter you MUST have snow tyres or chains. |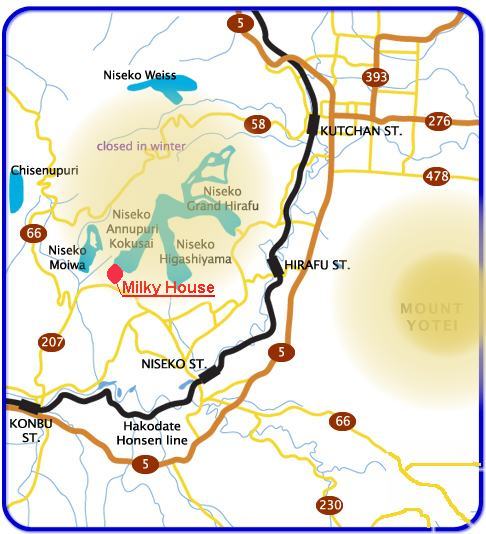 Directions from Sapporo to Niseko:
The easiest way way to get to Niseko from Sapporo is to take Route 5. This starts in Sapporo and continues in a loop north-west through Otaru, before turning south and passing through Kutchan. Niseko is about 10km south of Kutchan just off Route 5. The road is well signed in English and Japanese.
Directions from Niseko to Milky House:
From Niseko, follow the signs (in English and Japanese) for Konbu Onsen (not Konbu Station) and Iwanai. You will be taking Route 66 west. You will know that you are going the right way when you pass over this big yellow bridge.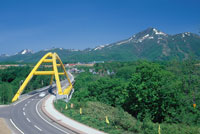 Follow this road for approximately 9km. Look out for the road with the large blue sign saying "Niseko Annupuri International Skiing Ground".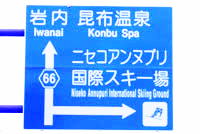 Take that road on the right (signed as shown above for "Niseko Annupuri International Skiing Ground"). Follow the road up the hill for about 1km. It will curve sharply to the left. Follow the road for about 150 metres after the curve. You will see Milky House on your left where the road bends sharply to the right.
If you have any problems finding Milky House, please phone us on 0136-58-2200.